Sergio Sorrentino live at Yale School of Music - Sprague Hall (Morse Recital Hall) - New Haven - USA
World Premiere of "Splitting" for electric guitar and video projection by Van Stiefel


---
---
Jargo's Table
April 2012 marked the third performance of "Jargo's Table" (written for the 2010 TEDx Phoenixville) at the first
Symposium on Laptop Ensembles and Orchestras (SLEO)
at LSU.
Jargo's Table (for four laptops on a local network running ChucK) is a "compositional space" in which each (laptop) player is responsible for determining a singular compositional parameter for all four machines. One machine chooses "Texture," or which machine, or pairs, will play ordered or unordered pitch sequences (called "Colors," as in isorhythmic motet). A second machine chooses the actual pitch content from an array of given sets. A third instrument chooses from a small palette of timbres for single machine, pairs, or all machines in combination. The fourth chooses from palettes of duration sequences, and/or a multipliers for the "unit-pulse", and/or delay values(control rate) for the onset of the rhythmic sequences on a given machine (so that, for instance: if the "Texture" player chooses an "ordered" melody for all instruments and the "Rhythm" player delays one or more machines, a canonic textures will result).
As it is, Jargo's Table is a "chamber piece" for four "composer/improvisors." Jargo's Table is named after a cherry table, hand-made for my family by my grandfather--which seemed like the perfect metaphor for the piece: a structure for celebrating (and exploring) the interdependence of constituent voices in a timeless conversation.
---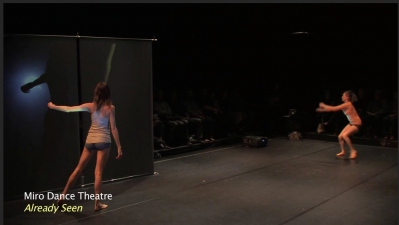 Already Seen


Already Seen

Van Stiefel performed with MIRO at a pre-event for the Philadelphia International Festival of the Arts: "Art After5" at the Philadelphia Museum of Art.

The collaboration 'Already Seen' began a year earlier when the company was chosen to participate in the at EMPAC (The Curtis R. Priem Experimental Media and Performing Arts Center).

"With Already Seen," MIRO writes,"[we explore] the 'loop' on both the human and technological level. Taking as starting points the infinite circle of the film loop and the process of sound looping, Already Seen looks at the circles of repetition and the feelings of deja vu that permeate our lives and relationships. The performers experience the same repeating moment and we, the viewer, are left to determine what has changed and what remains the same." Live electric guitar music is looped and processed and projected to multiple channels. At the same time, dancers trigger samples using light sensors located in particular parts of the performance space."
---
---